Muir Beach Volunteer Fire Department Informational Videos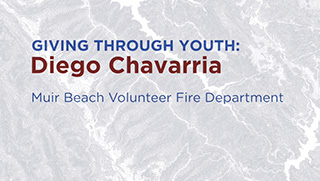 The West Marin Fund's Giving Through Youth program encourages community service and philanthropy among young people by engaging them in decision-making on the distribution of grant dollars.
Pt Reyes teen, Diego Chavarria, chose the Muir Beach Volunteer Fire Department to receive a grant because he appreciates how the Muir Beach firefighters help people through volunteering their time and expertise. Watch the video about Diego's visit to meet the firefighters who received his grant.
>> View the video

The Marin coast could be struck by a tsunami. Whether you live in Marin County, visit the beaches, or rent or own a home near the coast, it is vital to understand the tsunami threat and take preparation seriously. MARIN TSUNAMI tells the story of what several West Marin communities are doing to be prepared.
This video was produced by Marin County Office of Emergency Services and the US Geological Survey to help people prepare for a tsunami emergency.
>> View the video
Back to the top